Minghao mould has provided global plastic products customers with 2K moulds used in various industries for many years, and can provide customers with a complete set of 2K injection production lines according to customer project requirements.
What is 2k moulding?
2k mould means moulding two materials/colors into one plastic part. 2k moulding processes two materials with different characteristics, colors or hardness levels into one final product. 2K moulding, also known as co-injection moulding or multi-material injection moulding (MMM).
2k moulding relies on special 2k mould and 2k injection moulding machine. In general, 2K injection mould have 2 cavities. In the production process, we first inject plastic into the cavity of the 2k injection mould. After hardening, the mould rotates, and then we inject plastic into another cavity to complete the 2k product. An example of 2K mouldi is a lunch box. This is a product made of hard plastic, but the lid has soft plastic edges. With 2K moulding technology, we produce complete products in two steps. It also includes bicycle handlebars, toothbrushes with soft handles, etc.
Advantages of 2K moulding
Using 2K moulding technology, we can avoid possible assembly steps, thereby saving costs.
2K moulding technology can seamlessly assemble 2 components, so the final product becomes more durable.
Various colors can be mixed in the moulding stage, the product is more attractive, and the aesthetic value is high.
2K injection is very suitable for the combination of hard plastic and soft plastic. In this way, the product can be covered with softer plastic, thereby improving user comfort. Of course, soft plastics are essential in waterproof products.
Finally, products can be customized according to user preferences
Disadvantages of 2K moulding
In general, this mould is more expensive than a single-color injection moulding machine, and you must run the mould in a 2K injection moulding machine. However, since assembly steps and labor can be omitted, these costs can be quickly recovered in most cases.
In addition, all plastic combinations are feasible, and some plastics cannot be fully bonded together.
What is 2k mould?
2k mould
– sometimes known as double injection or 2 shot mould – is a very innovative way to produce complicated mould parts from 2 different materials. It's a highly meticulous, specialised and automated manufacturing process which controls the injection of multiple materials.the
2k mould
is a special injection mould. Its upper mould can rotate by itself or with the help of a machine, and this mould also requires a special injection moulding machine. In addition to the corresponding changes to the injection molding machine, MingHao's 2k mould injection moulding technology is the soul of the entire technology. The mould is rotated and displaced to achieve the effect of simultaneous injection of different plastics. 2K mould have high requirements on mould accuracy and mould movements in mould manufacturing. If the processing size has a slight error, it will cause the product to be crushed during injection moulding. We have advanced high-precision processing equipment, professional project management team and perfect after-sales service system. When each 2K mould is started, the project manager will organize relevant personnel to analyze the mould's running track, cooling, and the runner system.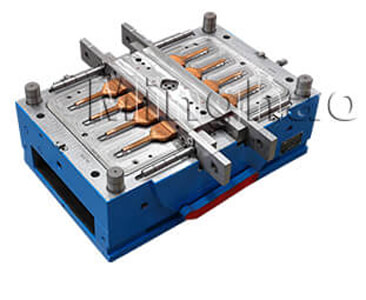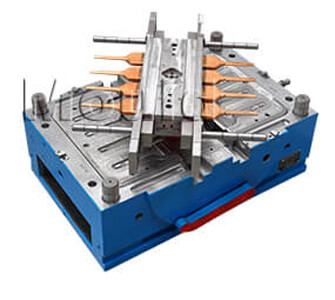 Application of 2k mould
Daily necessities industry, industry, electrical products industry, etc., Minghao 2k injection products are generally made of ABS, PC and other hard plastics with TPE soft plastics, such as washbasins, water buckets, toothbrush handles, mugs, two-color cups, two-color helmets, car armrests and household electrical insulation series such as power switches, mobile phone keys.
2K injection has many advantages in more complex products. It helps reduce costs, reduce assembly time, combine material properties and establish a strong connection between materials. Minghao Mould is happy to provide you with 2k injection mould solutions or help you manufacture 2k mould to produce the required 2k moulding products. Minghao will select the correct material and determine the best processing method. In this way, we can ensure that the final product fully meets or exceeds your expectations. We can help you optimize the design of 2K plastic parts and choose the best material that meets the bonding requirements of process, 2K mould design, 2K mould manufacturing and 2k injection moulding manufacturing